Criteria For Awards



Teachers, staff, or department heads are required to submit a simple written plan to qualify for an award. The committee meets periodically to review request and issue awards to the best plans subject to the funds available. Those receiving awards must submit a report on how the funds were used.
STEF Donations Now Total $35,914.87
You can help the STEF committee with their efforts to promote education and wellness in the Northridge Schools. Add STEF to your donations list and make a gift of cash to STEF. Your donation is tax deductible as STEF is a charitable organization as defined by the IRS. Donation form is available on our donation page.
2016 - 2017 School Year - $3759.07
MAY - $608.07 was granted and donated to the Fine Arts Department for a percussion station and percussion instruments to be mounted on the station.
JUNE - A total of $3151.00 was approved for two grants. $500.00 for the second annual STEM camp, June 26-30. Grant is to be used for five Finch Robot kits to teach and apply coding and programming. The second grant was for $2651.00 an interactive display board. This board can be mounted on a stand and create a portable media/library which can be taken where needed.
2015 - 2016 School Year
No request for grants received.
2014 - 2015 School Year - $11,000.00
JULY - $11,000.00 was granted and donated to the media department to create the Charles R. Tarzinski Media Center in the high school.
2013 - 2014 School Year - $1345.00
SEPTEMBER - A grant of $695.00 was granted for the fifth grade students to study the Dayton Philharmonic Orchestra and attend a children's concert at the Schuster Center in Dayton.
February - STEF donated $500 to the Hugh C. Sauer Fine Arts Department.
APRIL - A $50.00 donation was made to the Northridge Relay for Life in support of The American Cancer Society. $100.00 was sent to the Northridge Alumni Veterans Memorial fund for general maintenance of the memorial monument.
2012 - 2013 School Year - $12,071.85
APRIL - STEF granted funds, $500.00, to the music department for the high school jazz band to purchase an electric guitar and amplifier. This grant was provided by the STEF Wakat/Kelley Mothers Fund.
MAY & JUNE - STEF granted funds for a keyboard to the music department. The physical education department received a grant for $371.85 to replace worn out equipment. The music department received funds of $11,000.00, for their wish list with the vision of establishing a Hugh C. Sauer Fine Arts Department at the high school.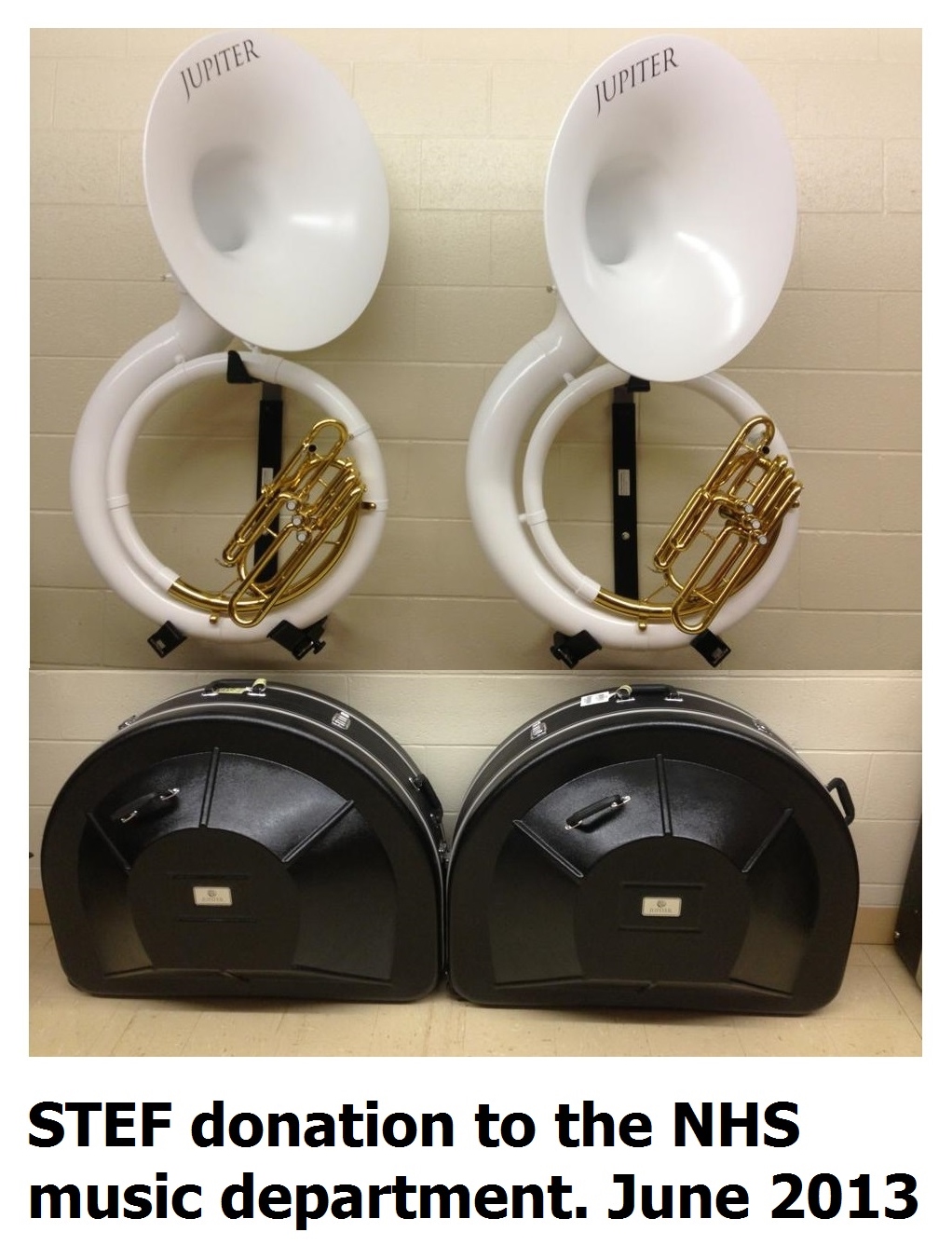 2011 - 2012 School Year - $1706.00
NOVEMBER - STEF granted funds, $325.00, to Snuggled Up, Inc to supply beds so Northridge students will not have to sleep on the floor at home.
JANUARY - STEF granted funds, $880.00, to Snuggled Up, Inc to supply beds so Northridge students will not have to sleep on the floor at home. These funds were specified by the donators to be used for the Snuggled Up Inc program.
MARCH - STEF granted $500.00 to the Timberlane Learning Center for the annual Family Fitness & Literacy Fun Night. Activities focus on early childhood development and skills such as gross motor control, hane-eye coordination, and core muscle strength. Attendees will also be provided with a light dinner as a model for a healthy kid-friendly dinner. PTO and Title 1 funds will also be used in sponsoring this event.
2010 - 2011 School Year - $1958.95

SEPTEMBER - STEF granted funds, $591.00, ($277.50 to Morrison and $313.50 to Grafton-Kennedy), for fourth graders to attend a Philharmonic concert.
STEF granted funds, $300, to Esther Dennis Middle School for recognition of the school receiving EXCELLENT rating by the Ohio department of Education. The first excellent rating for a Northridge School.
STEF granted funds, $675, to Northridge food service department to fund nutrition news letters and cafeteria information kits for all schools.
STEF granted funds, $200, to Timberlane Learning Center for Germ Smarts and Germy Wormy program to increase student awareness of germs.
STEF granted funds, $192.95, to Morrison for a health related program which includes componets for confidence and self esteem, coordination and balance, posture and body control, muscle conditioning, aerobic conditioning, health and fitness habits and sports skills.
2009 - 2010 School Year _ $1975.



STEF help fund the admission cost, $200, for twenty economically disavantaged students to the Football Hall of Fame in Canton, Ohio as part of a history and geography reward program. These students earned the privilege by raising their test scores.
STEF granted funds, $300, for 100 rocket parts for an eighth grade math rocket project. Students will build their own rockets and learn about parabolas, measurment, aceleration, velocity, averages, and basic trignometric functions. They will estimate and measure rocket speed, distance, acceleration and altitude.
STEF granted funds, $500, to the Timberlane Learning Center to help cover cost of the second annual Family Fitness Fun Night.
STEF granted funds, $250, to the Esther Dennis middle School for the cost of a new program, Moving Mondays, that encourages exercise and a healthy lifestyle for students.
STEF granted funds, $325, to the Northridge Local School District Wellness Committee to pay the cost of a one year subscription to Nutrition Nuggets, a newsletter designed to increase parent involvement and promote healthy habits at home.
STEF granted funds, $400, for Hyper Jump Games, a total body control action game for first and second graders at Grafton Kennedy
2008 - 2009 School Year - $1100.



Jim DeArmond, Mike Mescher, and Cindy Feltz visited Dr. Jarboe on Friday, November 5, 2008. We then went to the elementary schools (Timberlane and Grafton Kennedy) in Northridge. STEF presented a check for $400 to each of these schools to help them fund their wellness programs. Each school had a written plan of action to improve the wellness of the children in the lower grades. All were impressed by how well behaved the children were during our visit and presentation. We visited a gym class at Grafton Kennedy. When we entered the gym, the teacher said, "Freeze" and we didn't hear a word or a ball bounce during our visit. Impressive!
STEF supplied the funds, $300, for 30 pedometers for puchase by the Esther Dennis Middle School. These will be used by the eighth grade health class while partcicipating in the P.A.C.E. (Promoting Active Children Everywhere). The P.A.C.E. program allows them to participate with Paul Staso as he walks across Alaska in April. The P.A.C.E. website, allows them to post their progress on the website and do a comparison with almost 6000 other eighth grade students across the country.
2007 - 2008 School Year - $1000.



NOVEMBER -

A $1000 STEF Grant was made to the school nurse to be used for student health care needs during the school year. This money was used to supplement student health care needs that were not covered by private insurance, Medicaid or other supplemental programs. Examples include providing a one-month supply of daily medication for an elementary student whose family lost their insurance, a physical exam for a high school student discovered to have high blood pressure, a vision exam for a kindergarten student, and pedometers used to supplement Wellness initiatives in two elementary schools and the high school. Needs vary from year to year and seem to be greater at some times more so than at others. remaining money will continue to be used to supplement 2008-09 students health needs.